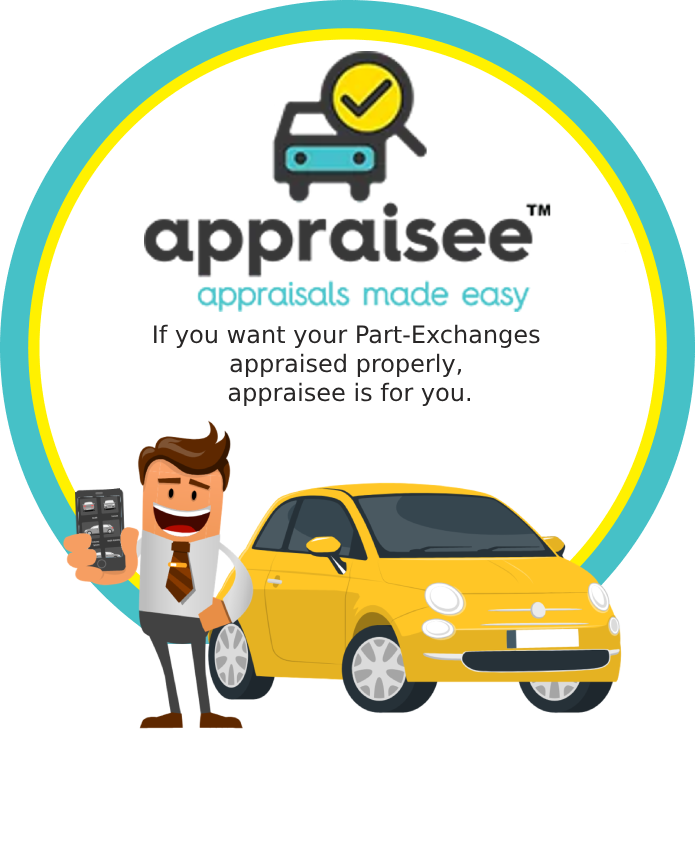 appraisee Face-to-Face App: Transforming Vehicle Appraisals
If you want your Part-Exchanges appraised properly, appraisee is for you.
In the dynamic world of automotive sales, precision is paramount. Dealerships face a common challenge—the accuracy of vehicle appraisals and the need to seamlessly manage the Part- Exchange process. Inaccurate appraisals can result in dealerships overpaying for vehicles, mainly because critical factors like existing damage or potential reconditioning costs are often overlooked by salespeople. This is where appraisee steps in, providing a solution that revolutionizes the way dealerships approach vehicle appraisals.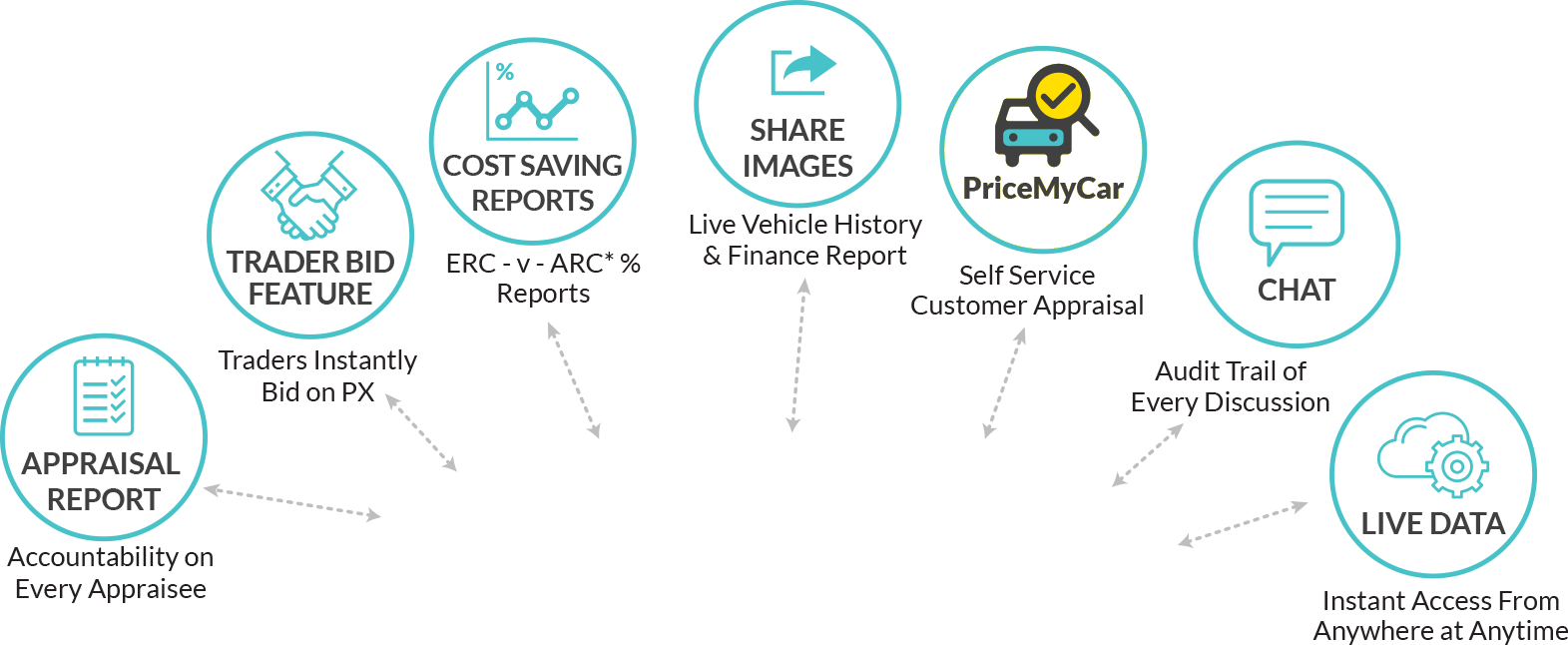 Next Generation


Used Car & Part-Exchange
Management System


For a Digital Age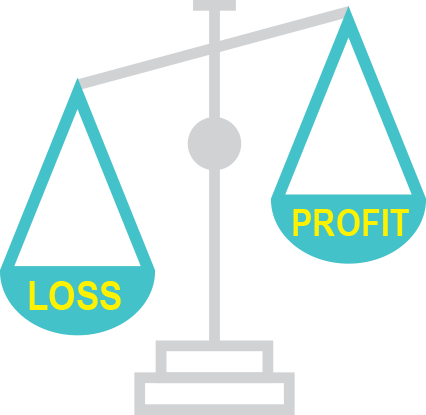 Undervaluing and miscalculating the condition of the vehicle at the appraisal stage can be the difference between a Profit or a Loss for your business.
The Problem: Inaccurate Appraisals and Disjointed Processes
Inaccurate Appraisals: Traditional methods often lead to inaccuracies in appraisals. Salespeople might fail to account for existing vehicle damage, which can later result in unexpected and costly repairs. This can lead to overpayment for a vehicle, affecting profitability.
Digital Vehicle
Valuation Software
A Simple change in your current part-exchange process will result in:
Accurate appraisals results in higher profit marigins
Annual Savings for a dealership with a Sales Team of 5. Users see their Estimated Repair Costs -v-Actual Repair Costs reduce after appraisee has been in use for more than 9 months by an average of £52,422.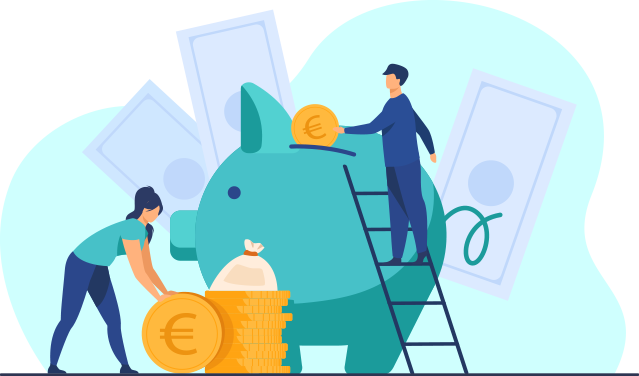 £141.21 increased profit per part-exchange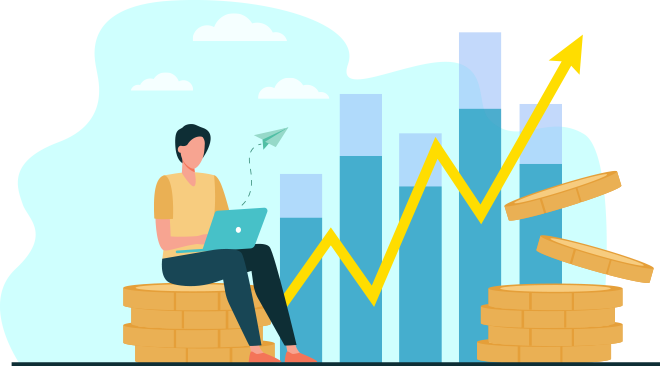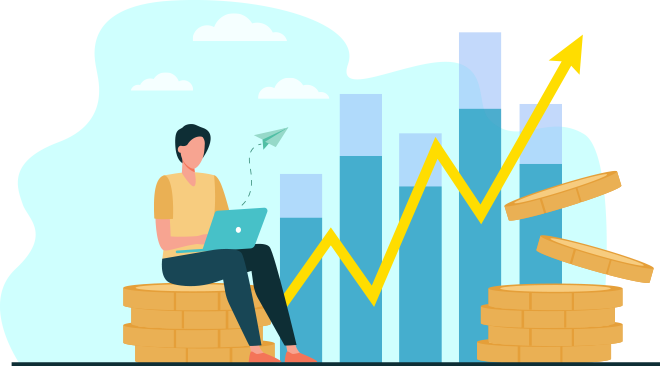 Disjointed Processes: In many dealerships, salespeople resort to a mix of WhatsApp for images and pen-and-paper for essential details. Over time, as the volume of trade-ins increases, sales managers struggle to keep track of this disjointed data. The process becomes unorganized, and it's challenging to recall how each vehicle was priced.
The appraisee Solution: A Comprehensive Digital Record
appraisee's Face-to-Face App provides a game-changing solution to these challenges. Here's how it addresses these pain points:
Comprehensive Appraisals: The app enables salespeople to perform more comprehensive appraisals. They can visually annotate vehicle damage, estimate reconditioning costs, and document optional vehicle features. This newfound level of detail empowers sales managers with a clearer picture of the vehicle and the ability to valuate it more precisely.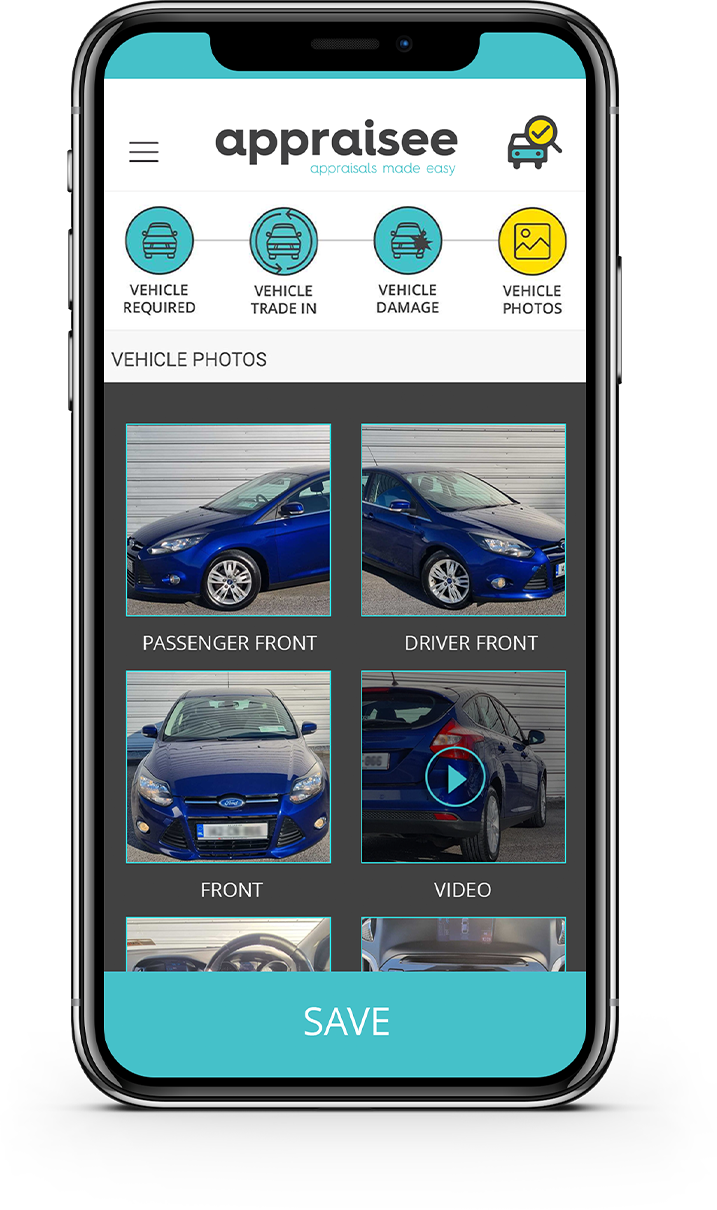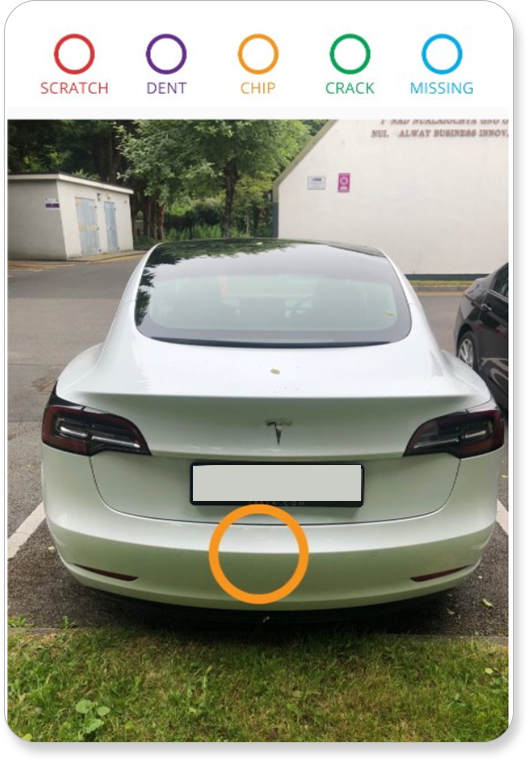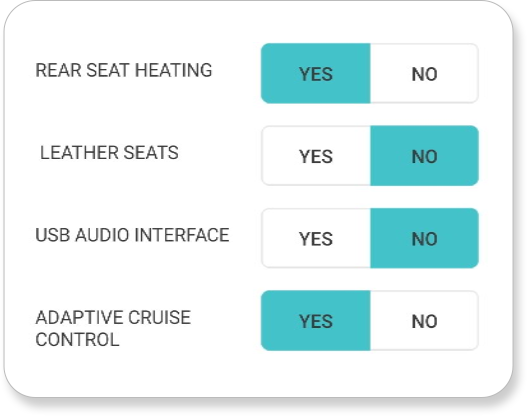 Estimated Recondition Costs ​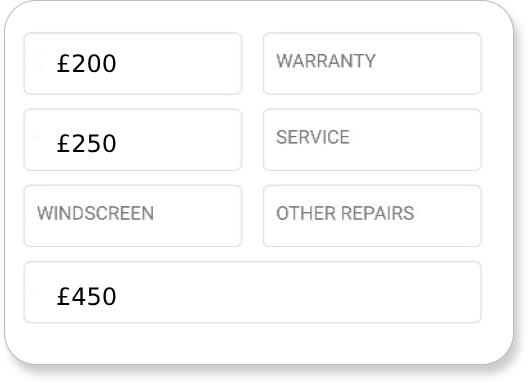 3rd Party Valuations integrations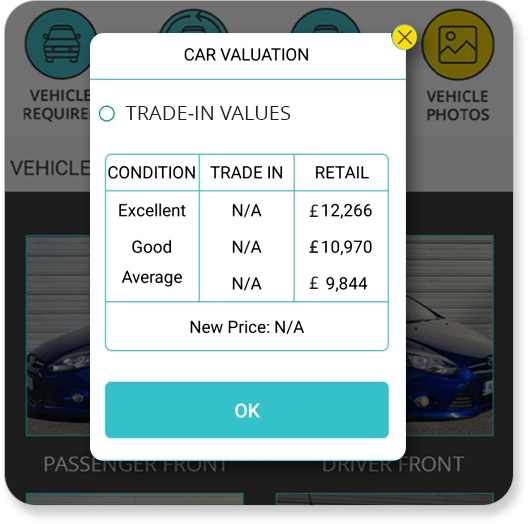 Streamlined Communication: appraisee eliminates the disjointed process of using various tools for appraisals. It creates one digital record for each vehicle, encompassing photos, VRM lookup, mileage, condition, estimated reconditioning costs, and third-party valuations. Sales managers can access everything they need to accurately price the vehicle and communicate with salespeople through the integrated chat feature.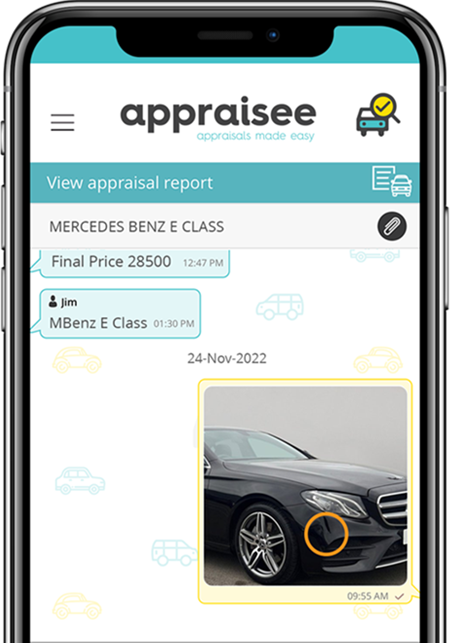 Enhanced Transparency: The app instils a sense of transparency. Estimated reconditioning costs can be entered right in front of the customer, promoting trust and helping manage customer expectations regarding vehicle pricing. Customers appreciate a structured process for their appraisals, which further bolsters trust in the dealership.
Centralized Record Keeping: Say goodbye to the hassle of searching through WhatsApp chats or paper records. appraisee maintains a centralized digital record for each vehicle. Every communication, image, valuation, and detail are organized in one place, ensuring easy access and recall at any time.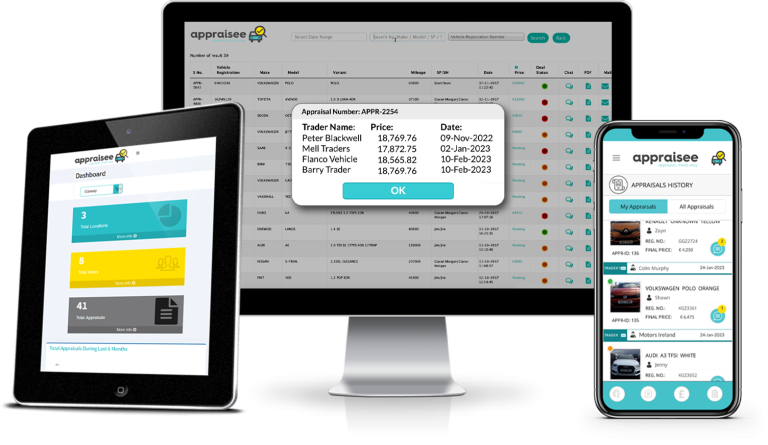 Trader Bids Included: appraisee goes beyond standard record-keeping. It stores third-party trader bids within the digital record, enabling you to have a comprehensive view of all offers for a specific vehicle.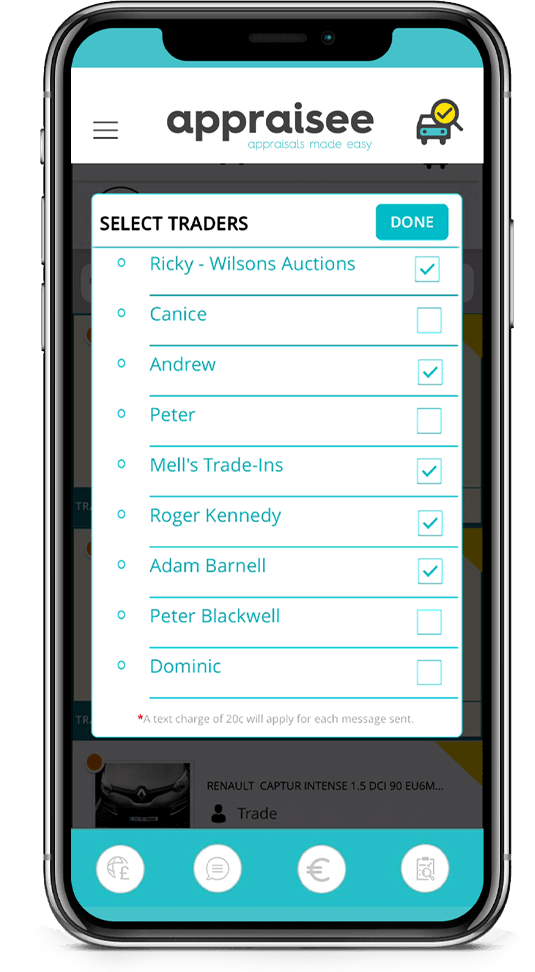 Unlock the Future of Vehicle Appraisals with Appraisee
In a fast-paced industry, precision and efficiency are key to profitability. appraisee's Face-to-Face App transforms the way dealerships conduct vehicle appraisals. It empowers sales teams with the tools to provide comprehensive assessments, enhances transparency, and optimizes communication. Say goodbye to inaccuracies and disorganized processes—unlock the future of vehicle appraisals with appraisee.
Elevate your dealership's profitability with appraisee today!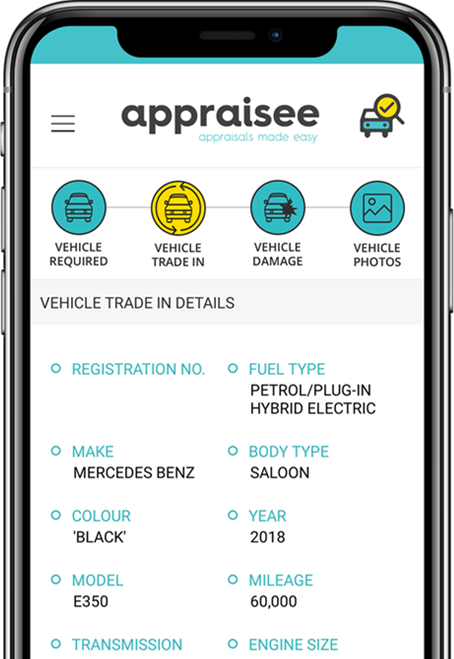 Using the Appraisee app, the Salesperson follows a guided step-by-step process to conduct appraisals. They effortlessly gather information by combining photos and videos, efficiently creating a digital appraisal form within minutes.
Once the appraisal is complete, the Sales Manager swiftly receives an instant notification and can proceed to review the appraisal. Leveraging the comprehensive data provided, they are equipped to make informed decisions and take the necessary steps.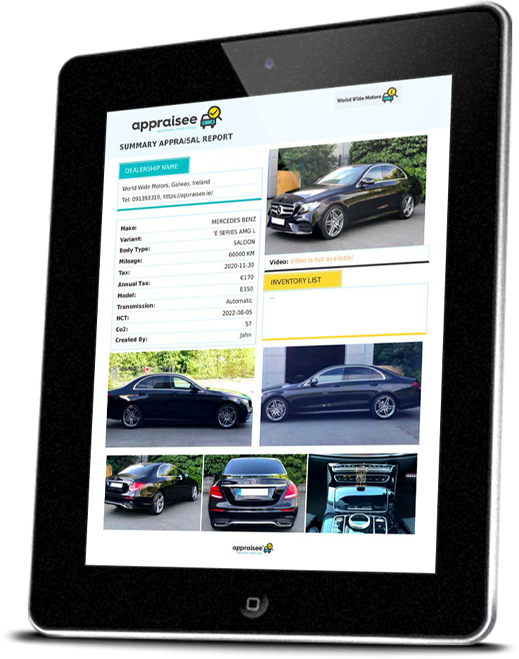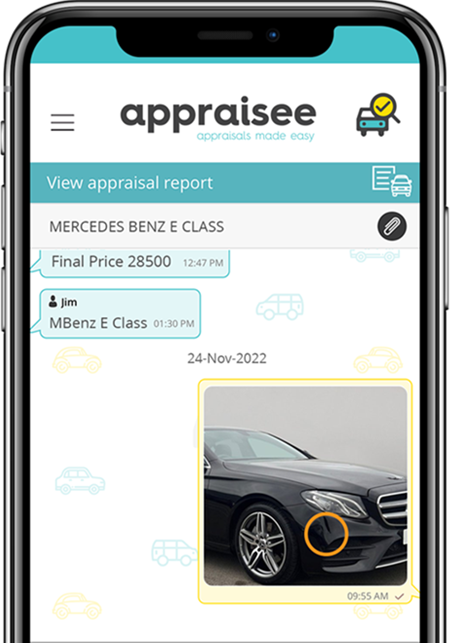 Upon reviewing the appraisal, the Sales Manager can seamlessly engage in further discussions with the Salesperson using the integrated chat feature. They then convey the final price to the Salesperson, who can subsequently inform the customer.